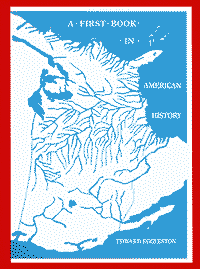 A First Book in American History
Author: Edward Eggleston
Category: American History
Cover: Hardcover
Pages: 240
Ages: 9 - 12
Type: History | Youth | Biography
Illustration: Illustrated
Rating: 1030L
 
An American history textbook that captures the imagination, makes children proud of their heritage - and teaches virtue by example.
Edward Eggleston had a simple goal when writing history texts for children: make history interesting. Make it interesting because a child remembers what captivates him. A child is fascinated above all by people, Eggleston reasoned. So in his history texts Eggleston draws a picture of the development of the United States using the stories of the living and breathing Americans who made it all happen. Men and women like Christopher Columbus, John Cabot, Pocahontas (minus today's politically correct spin), Henry Hudson, Myles Standish, Benjamin Franklin, George Washington, Thomas Jefferson, Samuel Morse and Abraham Lincoln.
Children learn even more valuable lessons as they absorb history through biography. They learn virtue and good conduct by osmosis. How better to illustrate perseverance than with the stories of Columbus and the other explorers? What finer way to teach patience, honor and selfless public spirit than with the life of George Washington? How better to portray the value of diligent study, hard work and simplicity of character than with the life of Abraham Lincoln?
Especially valuable for homeschoolers.......
All the features you expect in a teacher-friendly textbook: study questions after each chapter, definitions of pertinent words, maps and illustrations and an index for easy cross reference.